Pressure Sensitive Labels
We print our PS labels on many different materials that exhibit different characteristics depending on what you need for your label, but in general, we categorize these as PAPER or FILM (plastic).
As with all PS labels, paper face sheets provide extremely versatile product marking options. These options include many different adhesive structures to meet your packaging specification and a paper portfolio that includes semi-gloss, high-gloss, fluorescent, foil, translucent, metallized and matte-coated face sheets. Paper is also used for embossed labels.
This whiskey label we produced was printed on metallized silver paper and embossed for just a hint of premium detail to our customer's label.
Our portfolio of pressure sensitive film includes white, clear and metallized labels.  Achieve a "no label look" on a variety of containers, including plastic and glass. They hide square halos, irregular patterns and corners, creating new creative opportunities for transparent, metallic and opaque designs.
These front and back labels were printed on clear BOPP (biaxially oriented polypropylene).  The back label is what we call a "sandwich label"; what you see from the front is completely different from the back.  This is achieved by printing multiple layers onto one clear label, with an opaque layer in between.
Shrink sleeve label graphics have revolutionized product sales for everything from beer cans to produce packaging. The 360° display of brilliant artwork will fit most containers and can contour to special shapes. Shrink sleeves labels are durable due to plastic or polyester film material – perfect for products that encounter moisture or friction.
We produce flexpack pouches printed on a variety of different materials depending on your product contents and with options like:
K-Seals
Gussets
Tear Notches
Hole Punches
and more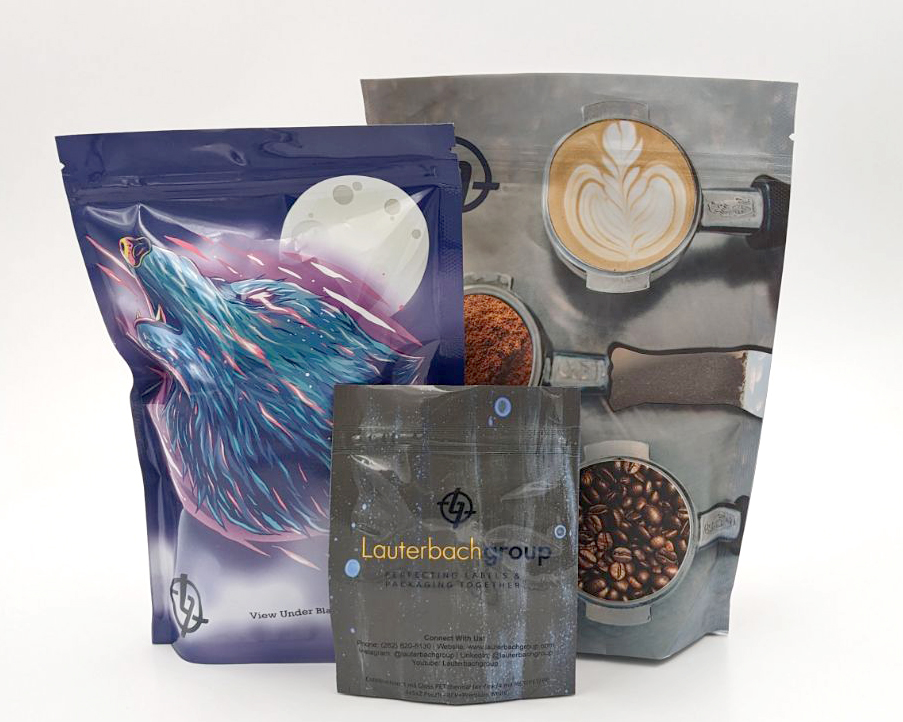 All of our REsolute™ Reclosure products resist water, oils and other liquids in order to support high-quality visual branding where you need it. And the clear and white film face materials featured in these constructions offer the right level of stiffness and flexibility needed for specific types of packaging. We accomplish this through a patented dual action of removable adhesives and select film face materials for a lasting open-close function in the food, home and personal care segments.
Our REsolute™ Reclosures products portfolio is approved for indirect food contact, so these products are an ideal choice for wet wipe packages as well as a perfect alternative to hard closure packaging in dry food applications such as rice, coffee, pasta and deli meat packaging.
Our hinged labels, instant redeemable coupons and clean release cards are all excellent ways to bring immediate impact to your product on the crowded shelf.  These products can provide eye catching designs or deliver additional product information, product recipes, cross promotion sales and point of purchase discounts.
Our products can mix and match different materials and adhesives to achieve your projects perfect outcome.
Product hang tags can be almost any shape, size, color and use many different material face sheets to bring attention to your product. We print everything from paper hang tags to keg collars.

Our Direct Food Contact Onserts and Inserts along with our Silk Paper Cheese Labels are some of the most effective ways to brand food products. Our sanitation practices allow these labels to be placed directly onto food products with full confidence that food will remain safe.
We are the first American company to introduce "Euro-style" Silk Paper Cheese Labels in the U.S.
Lauterbach Group provides a wide range of brand protection and secure labeling options for Wine & Spirits, Cosmetics, Sports Memorabilia, Electronics, Software, Automotive and much more. The following security features are available in paper and film label stock materials:
Tamper evidence (package seals)
Destructible papers and films that break into pieces or split apart
Standard and customized void films
Thin films that are difficult to remove
Anti-counterfeiting facesheets
Holographic facesheets
Serialized or variable facesheets
Invisible / ultra-violet ink
We also can inlay taggants and shadow print between the underside of the label face and adhesive labels featuring aggressive adhesives tracking and tracing functionality. Variable information can be printed on anti-forgery paper or used as a unique identifier.
Our bumper stickers can be produced on a wide variety of materials, and can be paired with permanent and removable acrylic adhesives or micro-spheric adhesives that will not leave any surface residue when the sticker is removed. Our bumper stickers are durable in construction and will resist ink fading in outdoor applications.

Our static clings can be placed inside or outside the window. Our printing process utilizes ink chemistries that create vibrant colors on top or beneath the best opaque white in the industry. If you are looking for a cling decal that can be seen from both sides, no problem! We can even serialize and personalize each decal.
Our return address label options have the ability to translate your brand's character onto any envelope.
We produce stamp sheets and sticker sheets on a number of lay flat paper and film face sheets. We can even help design your sheets or help improve your current design. Add foils, holographic varnishes, specialty inks, variable imaged information or specialty paper face sheets to make your stamp or sticker sheets an awesome promotional piece.
Membership, discount and patient cards can help acquire a higher level of response and are an excellent way to reward your current customers, as well as, attract new clients. The advantage of dry peel technology over similar products is the simplicity of their application to various forms, letters and products. Our cards can be produced using paper or plastic. They can be printed both sides, and have serialization and personalization features added to the card.
Visit our MASC Store to order a wide variety of stock label and tag products for the office, warehouse and mailing industries. If you cannot find the product you are looking for, just ask us we will create the specification that meets the need for your application.