As you walk down store aisles, you see more and more shrink sleeve labels then ever before.  Shrink sleeve labels are a fast-growing part of packaging for consumer products.
If you've been living under a rock, just go down the dairy and juice aisles of your local grocery store and you'll see shrink sleeves wrapped around milk, juices, soda, drinkable yogurts and protein shake containers.  Then go to the beer and spirit aisles, and you'll see shrink sleeve labels on aluminum cans and glass spirit bottles.  It doesn't matter which aisle you walk down from household items to vitamins and nutraceuticals, tool and fasteners to yard and garden supplies, you will see shrink sleeve labels provide brand awareness and greater packaging functionality.
Packaging market research firm AWA estimates that shrink sleeve labeling will grow in excess of 5% a year through 2025.
How is a shrink label made?
First, each product's artwork is expertly manipulated and distorted electronically to properly proportion the artwork to the container's shape and contours.  Shrink sleeve label film is then printed on using flexographic or digital technology.  Then the printed film is seamed into a tube, inspected, and finished into the proper size roll.
After the shrink sleeve labels are applied over a bottle or package and cut to the proper length, the container is sent through either a steam or electric heat tunnel to conform the label precisely to the container.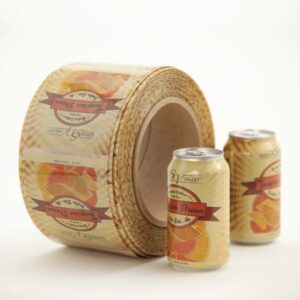 Benefits of Shrink Sleeve Labels
As brands look for new ways to create shelf awareness and packaging with greater functionality, shrink sleeves offer many important benefits:
360-Degree Coverage — Going beyond the capabilities of a pressure sensitive label, shrink sleeves completely encapsulate the bottle.  This gives packaging designers an even broader "billboard" for eye-catching artwork, brand storytelling, and product information.
Complex Shapes — Shrink sleeves can easily conform to even the most complex shapes, including curves, cutouts, bottle caps, and even the grip portion of a trigger spray bottle.
Versatility — Applying artwork to a container via shrink sleeve can produce the same effect as screen printing.  This means that brands can easily change out that artwork.  Instead of tying up a lot of capital with pre-printed containers, they can stock a generic container and adjust their shrink sleeve artwork to suit various changes.  This is ideal for brands that offer seasonal and limited release items.
Tamper Evidence and Security — Shrink sleeves labels offer a way for brands to add tamper-evidence functionality to a container.  This stands to be increasingly important in the era following the pandemic, as shoppers have developed an intensified interest in the safety and purity of their foods.
Informational Space — If your label needs a lot of space for nutritional claims and dietary benefits, plus regulatory and ingredient information, the 360 degree label format can provide the needed space for all necessary information.
Sustainability — In the past, shrink sleeves were not recyclable in standard recycling processes, even if the bottles they encapsulated were.  That meant conscientious consumers had to peel shrink sleeves off their bottles, recycle the bottles, and throw out the sleeves.  Now, however, recyclability is a key focus within the packaging and printing industries.  New developments in the type of shrink sleeve label films produced let sleeves stay on PET plastic bottles and get fully recycled.  This new PET shrink sleeve label material meets the Association of Plastic Recyclers Critical Guidance Protocol for Clear PET Packaging with label and closure requirements.
Another key development in shrink sleeve label material is the continued development of film with a significant post-consumer waste content.
Contact Us
For more information about shrink sleeve labels, to receive samples or talk with our sales and service group about a specific project, please contact us at info@lauterbachgroup.com
or call us at 262-820-8130.